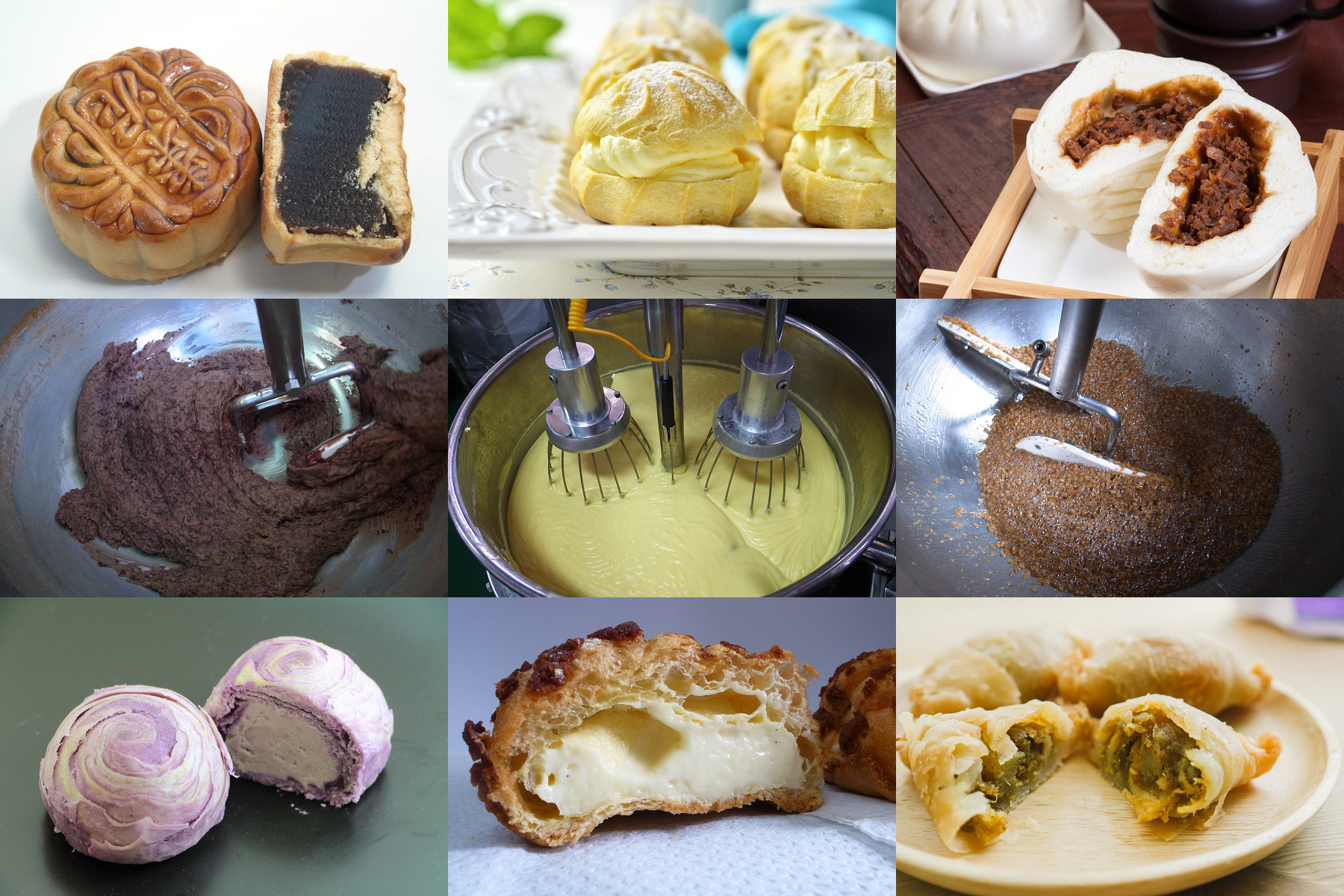 Paste / Stuffing
Cooking Mixers - Apply to Food
Stuffing, filling, or dressing is an edible mixture, often composed of herbs and a starch such as bread, used to fill a cavity in the preparation of another food item. There are many types of stuffing and filling; the common (sweet) stuffing in Chinese pastry or cakes such as mung bean paste, red bean paste, matcha paste, pineapple paste, taro paste, jujube paste, sweet potato paste, custard paste, etc. Besides, salty filling is also quite popular in Asia cuisine such as curry paste, minced meat stuffing, and dried radish filling.
---
Red bean paste or red bean jam is most popular in Asian cuisine. The bean paste is prepared by boiling the beans, then mashing or grinding them. In fact, all the processes, blending, boiling, and mashing can be finished in our one cooking mixer.
In recent years, Taiwan's pineapple cake has been welcomed internationally. The filling used in this pineapple cake is Taiwanese pineapple paste or white melon paste. Usually, it takes very long time to stir fresh pineapples into paste by hand due to high water content. With our cooking mixer, blending and heating time can be greatly shortened, and the best flavor of Taiwan pineapples paste can be perfectly presented.
Custard cream, which is stuffing in puff, usually has many kinds of flavor, such as Vanilla Custard, Matcha Custard (green tea custard), and Chocolate Custard. Making custard cream requires patience and care. Blending and heating with scrapers and whips in our special custard mixer, and the taste of custard can be more fragrant and smooth; the texture of custard can be increased.
A samosa is a fried or baked pastry with a savory filling, including ingredients such as spiced potatoes, onions, peas, or minced meat (keema). Samosas are a popular entrée, appetizer, or snack in the cuisines of South Asia, the Middle East, Central Asia, East Africa. Our all-in-one cooking mixers can saute potato and blend well with powders, chaat masala, or all mixture together. Also the stuffing in Curry Puff (karipap) or Curry Dumplings, the mixture of curry, chicken, and potatoes, can use our cooking mixers to saute and stir-fry very well and very evenly.
Models

Videos